13th European LS-DYNA Conference 2021: a successful event
With more than 170 top-class technical presentations in nine parallel sessions, 230 participants on-site and 600 participants online, as well as more than 20 sponsors and exhibitors, the 13th European LS-DYNA Conference was a great success. DYNAmore would like to thank everyone involved in making this special conference possible.
Ulm/Stuttgart, 18th September 2021
The 13th edition of the European LS-DYNA Conference, held from October 5-7, 2021, was a special event in many ways. For the first time ever, the conference was a hybrid event where participation was possible both on-site in Ulm and on-line. This new format required more effort from the participants, as the presentations had to be recorded in advance. DYNAmore would like to thank all speakers for their commitment.
The positive feedback from all participants shows the importance of a conference for users and developers. Direct and personal exchange is essential for the development of new ideas and solutions and will continue to play an important role in the future. This is also confirmed by the, for the current situation, high number of sponsors and exhibitors, who were very satisfied about the opportunity to present their range of services live again.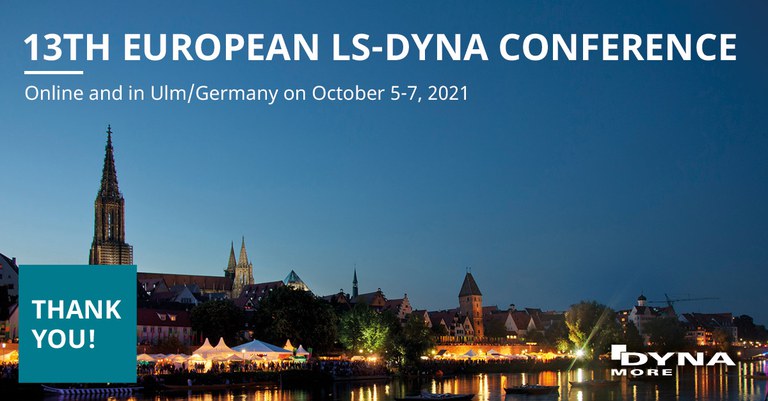 "We are completely happy with the conference," explains Ulrich Franz, Managing Director of DYNAmore GmbH. "Our courage to organize a face-to-face event at this time has been very positively received by participants, sponsors and exhibitors alike. We are pleased that we have once again succeeded in attracting an international audience of experts and convincing decision-makers from many companies, including numerous OEMs such as BMW, Daimler, Honda, Porsche, and Volvo, to attend our conference in person. This is proof of the high reputation that DYNAmore and the conference enjoy among customers at home and abroad," Franz continued.
For all those who could not attend in Ulm, this year for the first time there was the possibility to follow the presentations within the online conference. The online conference presentations were posted online a day later, as the keynote speeches and some other presentations were recorded live in Ulm and edited overnight.
"Extending the conference to the Internet allows us to reach new audiences around the world who otherwise would never have come to the conference," says Professor Ulrich Göhner, DYNAmore's sales and marketing executive. "We're very pleased with the experience we've had and think we'll continue to offer an online format at upcoming conferences."
All papers and also the recordings will be published by DYNAmore in the next weeks. The exact date will be announced in the newsletter, the DYNAmore Infomail, and on the company's website.
The next conference is the 16th German LS-DYNA Forum, which is expected to take place in Bamberg in October 2022. DYNAmore is already looking forward to another meeting and many interesting presentations.