The finite element models of the FAT are developed in conjunction with the German Association for Automotive Research (FAT) by DYNAmore. In the FAT the German automotive industry joins parts of their research activities. The models are permanently improved and highly validated in accordance to the physical dummies. The model of the SID-IIs has been developed by Humanetics. Humanetics is the largest manufacturer of dummies and also developing finite element models.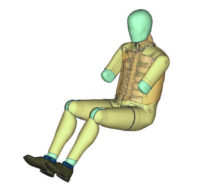 DYNAmore has developed a model of the WorldSID 50%. The model is validated with material, component and sled tests. The model was developed with a consortium of the German OEMs (PDB: Audi, BMW, Daimler, Porsche, and VW). The methods applied are the same as in the previous projects with the FAT for the ES-2, ES-2re, USSID, and BIORID model. More information about the latest dummy releases can be found on our dummy website.

FAT ES-2 und ES-2re Dummy-Modell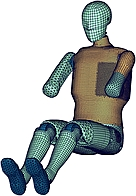 The ES-2 and ES-2re dummy is used in side-impact-assessments of the automotive industry for many years. Among others the dummy is currently utilized in the legal authorization in Europe (UN R95), Japan (Art. 18) and the USA (FMVSS 214). Additionally the dummy is used in consumer-protection-tests in America (f.e. U.S. NCAP) and Asia (f.e. ASEAN NCAP). Initially the dummy was developed within the FAT (consortium of the german automotive industry). More information about the latest dummy releases can be found on our dummy website.

Current release of the SID-IIs SBL-D model is version 4.3.5. The dummy represents a small female body and is used in legal authorization and consumer-protection. Examples are FMVSS 214, IIHS and U.S. NCAP.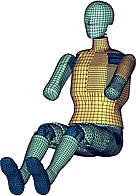 The ES-1 dummy is the previous model of the ES-2 and ES-2re. In some extend the ES-1 is used for legal authorization in India (AIS-099) and South Korea (KMVSS 102).
FAT US-SID and SIDHIII Model
The latest model of the FAT US-SID is version v5.0. The modified version, the SIDHIII v5.1 is used in lateral impact to a pole. For both dummies a detailed model is available.
Additional Information on the Side Impact Dummy Models