Applied Forming Simulation with eta/DYNAFORM
This course provides an introduction to the simulation of sheet-metal and hydroforming processes with eta/DYNAFORM and LS-DYNA. All steps required to set up a LS-DYNA forming simulation are covered. The eta/DYNAFORM program is a special preprocessor for simulation of forming processes with LS-DYNA. The LS-PrePost program is presented for use in postprocessing.

Content
Introduction in the simulation of sheet metal forming processes
Introduction in the software eta/DYNAFORM
Preprocessing in eta/DYNAFORM

Meshing of tool geometry
Meshing oft the blank
Definition of the blank (Selection of the material model, setting of the symmetry boundary conditions)
Definition of the tools (Selection of the contact formulation, setting of the friction, positioning of the tools, applying force- and displacement- boundary conditions on the tools)
Positioning of the tools
Boundary conditions
Definition of draw beads
Definition of adaptive meshing
Determination of the sheared blanks
Trimming of the sheet with eta/DYNAFORM

Calculation (explicit, static or dynamic implicit)
Multi-stage process definition with AutoSetup

gravity loading analysis
binder closing
drawing simulation

Postprocessing with LS-PrePost
Application examples with eta/DYNAFORM, LS-DYNA and LS-PrePost
The course is practice-oriented, with an emphasis on industrial applications. This seminar is suitable for users from the area of metal forming who wish to learn how to use eta/DYNAFORM and LS-DYNA to simulate sheet-metal forming processes or who wish to deepen existing knowledge.
Lecturers
Peter Vogel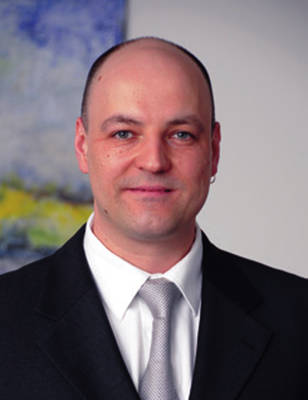 Dipl.-Ing. (FH)
Manager deep drawing simulations
Area of expertise:
Forming simulations
Academic studies:
Mechanical engineering