LS-TaSC is a Topology and Shape Computation tool. Developed for engineering analysts who need to optimize structures, LS-TaSC works with both the implicit and explicit solvers of LS-DYNA. LS-TaSC handles topology optimization of large non-linear problems, involving dynamic loads and contact conditions.

Tight integration with LS-DYNA
Large models with millions of elements
Manufacturing constraints
Global constraints
Generalized constraints
Multiple load cases and disciplines
Multiple design parts
Topology optimization of solid designs and Topometry optimization of shell designs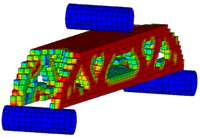 Element types

Solids: First-order hexahedrons and tetrahedral elements
Shells: First-order quadrilateral and triangular elements

Combination of statics, NVH and impact

Homogenization of internal energy density
Maximization of fundamental frequency

Postprocessing

Methodologies

Optimality Criteria
Projected Subgradient method
Multi-point method for constrained optimization
The surface of a solid part can be redesigned to reduce stress concentrations.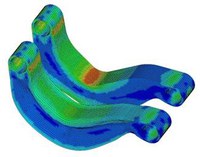 Objective: Uniform surface stress
Parameters: Position of each node in the design surface
Geometry definitions
Edge smoothing